The culture of Vietnam is one of the oldest of such in the Southeast Asia region. Although Vietnam lies geographically in Southeast Asia, its culture and the origins of its people are of East Asian descent.
Despite a general Vietnamese culture that all Vietnamese share, there are considerable differences that have emerged due to southward expansion and later, exposure to the west between different regions of Vietnam, most noticeably that of Northern and southern Vietnam.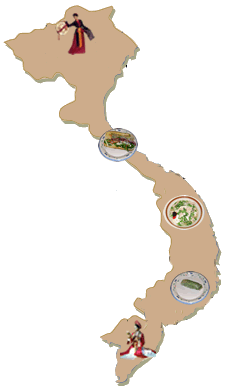 The Ao Tu Than (Áo Tu Thân) or "Four-flapped dress" worn by northern women. It is a predecessor to the Áo Dài and is a four part flowing tunic, worn with a long skirt and an Ao Yem (Áo Yem) underneath.
Besides, food is considered one of special cultures of Vietnamese. Some of them are BANH MI, BEEF NOOBLE SOUP (PHO), and SPRING ROLL (GOI CUON)
Now, welcome to my webside, hope you enjoy your stay and discover the beauty of Vietnamese tradition.
Click HERE to visit my web in Internet, or your can find out more about Vietnam HERE